CONTROL AND GROW
YOUR BUSINESS

HOSTEd & CONFIGURED
FOR YOU

Si lo prefiere puede leer esta información en castellano
Dolibarr ERP/CRM
is a software that is installed on a server to manage the resources of a company/organization: from products/services, warehouses, personnel, customers, suppliers, sales and invoices, documentation, etc. It is an internal work tool for companies and/or individuals. Accessible from any device with a web browser (PC, phone, tablet ...).
Dolibarr
is a free software (opensource) and therefore it's constantly evolving, translated into many languages, and in which an entire ecosystem of suppliers worldwide
offer support, custom-made developments of modules, and hosting with pre-installed Dolibarr
.
Link of interest:
Official Dolibarr website
.
Benefits of using an online ERP
| | |
| --- | --- |
| | Increase the productivity of your entire business |
| | Save time, money and effort in operation |
| | Enterprise-friendly implementation and use |
| | |
| --- | --- |
| | Secure backup of data in the cloud |
| | Adapted to the needs of your business |
| | Access to the system from any PC or tablet with internet |
DOLIBARR HOSTED & PRE-INSTALLED
We make it comfortable and easy for you: we offer an instance of Dolibarr running in its own database and with many pre-installed modules that are usually necessary, with backup copies, and obviously with someone who will assist you when you need support.
Although you can also use Dolibarr without our help, if you prefer: you download it from the official website, install and configure it on a server, and complement it with the modules you need ... in the official Dolistore store there are countless modules.
The GREAT ADVANTAGE of using our service: that we are always aware that everything works, backup copies, necessary configurations, updates, etc. while you deal exclusively with managing your company.
As we have clients in Europe and America, we have a server in Spain and another in the USA for the Dolibarr instances of our clients in the respective areas.

Specifically for Mexico, we have specific modules for accounting and billing (stamped with the SAT).
Main dashboard (click to zoom)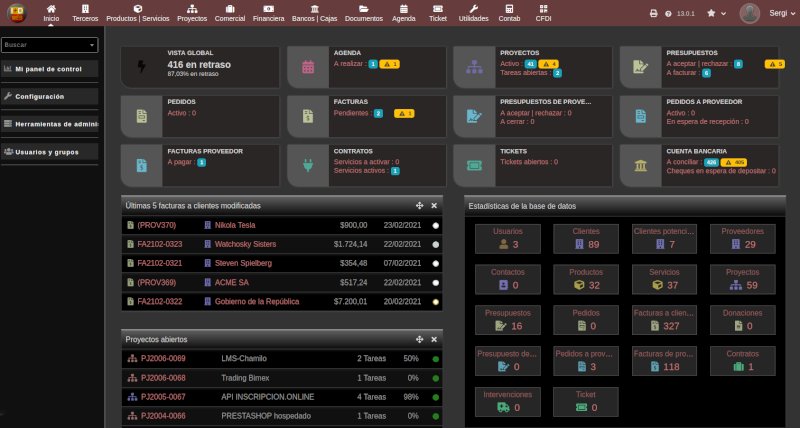 Billing statistics (click to zoom)

Here are the common features in our basic installation:
SEMESTER COST


90€ (WORLD)

/

$1,800MXN (LATAM)



MONTHLY COST


15€

/

$300MXN
UNLIMITED use: *** unlimited users *** (!!!), products, customers, suppliers, quotations, orders, invoices, purchases, warehouses, documents, etc.

Storage: 4Gb (SSD units)
1Gb extra storage: 6€ / $120MXN semester

Email sending, two options:
A) using our SMTP server: máx. 100 sent/hour
B) using the SMTP of your domain/server: no-limit

Included modules:
A) the natives of Dolibarr
B) TOTp Two-Factor Authentication of IMASDEWEB
C) Stock transfers of IMASDEWEB
D) Purchases of IMASDEWEB
E) Solarized Theme of IMASDEWEB
E) Dark Theme of IMASDEWEB
F) For Mexico: CFDI & MEX accounting
Daily backup
Server: on Europa
SSL encrypting certificate
Migration service: €50 EUR / $900MXN
Updates: 100% free, under IMASDEWEB scheduling
Install news modules: 100% free, under request. if it's a non-free module you must purchase it on Dolistore first.
Installation duration: max. 24h after your payment
At the end of the service: We give you a backup copy of your database and files, of course.

Customer service and support

Technical support for incidents: unlimited, by mail or whatsapp.
Dolibarr use support:

A) We have collected abundant resources, community tools, and free user documentation here.
B) If you need personalized help by mail or video-conference we will assist you for (€30EUR / hour), check here our hourly bonuses for assistance.
FOR Mexico
As stated above, if you are in Mexico, we include in this installation the following modules:
CFDI stamping of invoices & proofs of payment
Import of XML supplier invoices to Dolibarr
Mexican accounting
Also:
50 stamps are included each time you pay a semester.
When you need more stamps we will sell you 50 stamps for $150 MXN.
If you manage more than one business
We recommend using a Dolibarr instance for each company you manage, especially if you are in Mexico and want to use the invoice stamping module.
You only pay for each additional instance an extra semi-annual cost of €15 EUR ($300 MXN):
Example (semester payment):
One instance of Dolibarr: €90 EUR / $1,800 MXN
Two instances of Dolibarr: €105 EUR / $2,100 MXN
Three instances of Dolibarr: €120 EUR / $2,400 MXN
...
We develop tailored to your needs
You should know that we develop custom modules for Dolibarr. Here are the two that we currently have for sale in the official store: Dolistore. Right there you can find countless modules to buy. But if you don't find what you need, ask us.
Some of our customers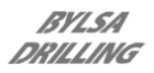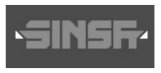 HOW TO START
Leave us your information and within 24 hours we will contact you. Whether you have questions to ask or already want to hire the service.
Note: We have a DEMO instance enabled so you can try the software before hiring it. For security reasons we do not have the address published, but use the contact form to request access to the DEMO.